WEB DESIGN FOR YOUR BUSINESS
I get it… your website – you can't bear to even look at it. The low-cost/DIY job has landed you with a website that doesn't reflect your business, you cringe at the thought of people seeing it, and because of this, you don't promote it with pride which means no traffic and no clicks!
Professional web design for your business
From beauty clinics to business coaches, I focus on what matters most to your business and your customers.
From £700, using either WordPress or Squarespace to design your website, I combine practical user experience with technical and marketing know-how to create dynamic websites that increase your visibility, engagement and revenue.
Small businesses: I enjoy working with businesses to deliver beautifully designed, cost-effective websites that generate calls and sales.
Custom websites: I can create a bespoke web design that has the look and functionality to truly reflect your business.
Website Hosting: For WordPress websites, I also offer website hosting.
A high-performing website will repay your investment many times over, so you need to make sure it delivers.
If your website isn't working for you, or you don't have an online presence, find out how I can help.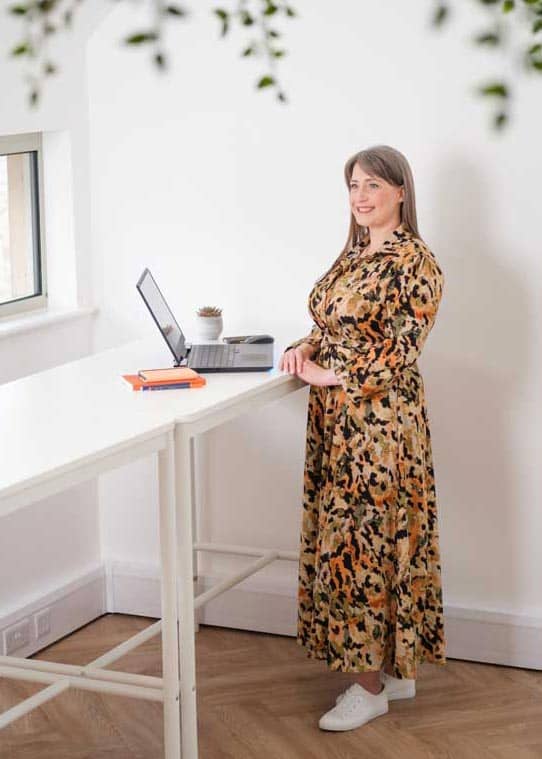 Web design: what's covered?
There is a lot more to designing websites than just choosing some pretty colours and stock images.
I use industry-leading platforms, including WordPress and Squarespace, to offer custom-built websites packed with features and functionality. The choice of platform depends on you and your business requirements.
Feel free to book a chat with me, so I can explain the elements that make a winning website design…
AUDIENCE
Who is your audience? Who are you trying to attract?
LOOK & FEEL
Of course, the website has to look great and be nice to navigate
UX & UI
User Experience (UX) and User Interface (UI) design considerations
SEO
Search Engine Optimisation (SEO)... So Google can understand your website
HYPERLINKS
Internal and External hyperlinks which are needed for SEO
CTA
What is your call-to-action (CTA)? Email? click-to-call? Booking links?
UK GDPR
Providing assistance if you need UK GDPR advice for your website
IMAGES
Picture research (free images for commercial use)
CODING
Addition of HTML / CSS and JavaScript if required
301
Setting up any 301 redirects that may be needed
DOMAINS
Assistance in connecting your domain to your website
What website builder should I choose?
This is a question I get asked all the time, and the answer is down to you, the business owner. It's really about how much time and effort you want to put into maintaining your website. Book a Zoom call with me and I can help you to define and choose the right website builder to suit your needs. I design websites across several platforms, including WordPress and Squarespace, so there are plenty of options.
Where do I start when thinking about designing my website?
First, you need to decide how you want your website to help your business? Websites can be used for a wide range of purposes, including selling products, promoting your services, gathering customer data and generating appointments, calls and bookings.
You should think about the structure of the website first before starting to think about the design. A good website structure combined with great web design will go a long way rather than just having a website that looks good but has no clear customer journey. You'll just end up leaving customers confused and wanting to look elsewhere.
Book a call with me to see how I can help you with the full user journey and customer experience, as well as making your website look great.
How can I attract visitors to my website?
People won't visit your website just because it looks beautiful. I always remind clients that I can build an amazing site, but that doesn't mean it will automatically attract lots of visitors.
There is a science to marketing your business online. For example, you'll need to consider search engine optimisation (SEO) techniques, your Google Business Profile and social media.
Fortunately, I work with a team of marketing experts, so can advise on the best solutions for your business. Don't worry, you don't have to do this all at once — having a professionally designed website is a great foundation for your brand and business.
What about my website content?
Your website is your virtual shopfront, so you'll need products and services in the window to entice visitors. Your website also needs interesting and relevant content, that reflects what your business offers. Fortunately, I work with a team of marketing experts, so I can advise on the best solutions for your website content.
How can a website benefit my business?
In this day and age, customers expect businesses to have a website. An online presence can build confidence and trust with your clients and is a great place to showcase what you do. If you use your website successfully as a marketing tool, you'll find you'll easily make back the money you've spent on its design. 
How much do your websites cost?
My costs range depending on the project scope, however, my Starter Package price starts at only £700. For more information on my prices, click here.
I can take care of everything you need to create a stunning website. If you have any more questions or you'd like to find out how I can design a professional website for your business, please click the link below.
Why you should choose Louise Maggs Design Experienced Designer
With a career spanning the media and corporate clients, I know how to make brands look brilliant.
Professional Service
My focus is on delivering an exceptional experience to each and every customer.
Trusted by Clients
I really get to understand what you do, so it's no surprise that much of my work is repeat business. Efficient & Friendly
My aim is to deliver great designs within your timescale… and hopefully we can enjoy a giggle or two along the way.
"I recently hired Louise to redesign a series of workbooks for my primary coaching programme for high achievers. The level of service that she has provided has been outstanding!! The quality of her work is excellent and she is extremely thorough in her approach and meticulous about attention to detail. She regularly kept me informed, provided work promptly and did all of the above with a smile! I would use her again in a heartbeat. Thanks so much Louise!" — Kate H
"Louise designed some brilliant logos for my company. It was a pleasure to work with such a talented and passionate professional. Louise worked hard to fully understand my requirements and ensure complete satisfaction. The process was fun - I'm really pleased with the results and will be engaging Louise to design the company's new website." — Darryn T
"Louise did a great job designing and creating my business website. I wasn't very sure how I wanted it to look, just how I didn't want it to appear. And she came up with a great design, making the process very easy. I had already prepared all the copy, and most of the structure, which helped the process along well. Louise clearly loves what she does and takes massive pride in her work. She is great to work with and is very easy going. If you want your website designing and creating, I can highly recommend you using Louise." — James R
"I commissioned Louise to design the website for Kennedy Business Solutions. Louise set to work, created a new structure and then created a design that used the existing branding - fantastic. She is a designer that takes note of the words and aligns them with the design, something that some designers don't seem to understand.
Louise incorporated all the back end and support systems - Vimeo, HubSpot, Calendly and the rest. And then she made sure I could use them. She delivered a truly comprehensive service that has set up the site with the very best practice and technology. I'm thrilled with the website. She is outstanding in what she does, and does it in a very caring and supporting way. She makes sure you own the design and builds it with you." — Sherril K
"Louise helped me with my website Pressie Heaven. I had, had some help previously and I had added my products myself, but Louise has done an amazing job of getting me over the line and adding some great additional feel-good factors/finishing touches, which I really wanted and appreciated. I found Louise, to be knowledgeable, very helpful and full of enthusiasm which is always good. She listens which is surprisingly refreshing and added some great ideas for me to implement and some with her support over time. We plan to continue working together and I really appreciate that support." — Veronica L
"I asked Louise to add visuals and format a 3,500 word document. She did everything I asked quickly, efficiently and with good humour. Flawless work that extended to two revisions. The real clincher is that Louise is also very IT literate. I couldn't be more pleased and Louise is definitely my go to Graphic Designer. VERY happy to recommend." — Charles W