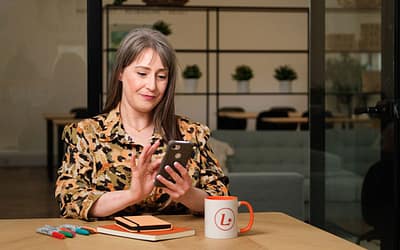 The great thing about websites is that they can always be updated. Using a website builder that is at the forefront of technology is best. This will mean you'll have the ability to keep it running and updated for longer as the technology will still be there to support it. Some websites are built on outdated platforms and there comes a time when you do need a completely new website – here is how to recognise some of those signs.
read more
"I recently hired Louise to redesign a series of workbooks for my primary coaching programme for high achievers. The level of service that she has provided has been outstanding!! The quality of her work is excellent and she is extremely thorough in her approach and meticulous about attention to detail. She regularly kept me informed, provided work promptly and did all of the above with a smile! I would use her again in a heartbeat. Thanks so much Louise!" — Kate H
"Louise designed some brilliant logos for my company. It was a pleasure to work with such a talented and passionate professional. Louise worked hard to fully understand my requirements and ensure complete satisfaction. The process was fun - I'm really pleased with the results and will be engaging Louise to design the company's new website." — Darryn T
"Louise did a great job designing and creating my business website. I wasn't very sure how I wanted it to look, just how I didn't want it to appear. And she came up with a great design, making the process very easy. I had already prepared all the copy, and most of the structure, which helped the process along well. Louise clearly loves what she does and takes massive pride in her work. She is great to work with and is very easy going. If you want your website designing and creating, I can highly recommend you using Louise." — James R
"I commissioned Louise to design the website for Kennedy Business Solutions. Louise set to work, created a new structure and then created a design that used the existing branding - fantastic. She is a designer that takes note of the words and aligns them with the design, something that some designers don't seem to understand.
Louise incorporated all the back end and support systems - Vimeo, HubSpot, Calendly and the rest. And then she made sure I could use them. She delivered a truly comprehensive service that has set up the site with the very best practice and technology. I'm thrilled with the website. She is outstanding in what she does, and does it in a very caring and supporting way. She makes sure you own the design and builds it with you." — Sherril K
"Louise helped me with my website Pressie Heaven. I had, had some help previously and I had added my products myself, but Louise has done an amazing job of getting me over the line and adding some great additional feel-good factors/finishing touches, which I really wanted and appreciated. I found Louise, to be knowledgeable, very helpful and full of enthusiasm which is always good. She listens which is surprisingly refreshing and added some great ideas for me to implement and some with her support over time. We plan to continue working together and I really appreciate that support." — Veronica L
"I asked Louise to add visuals and format a 3,500 word document. She did everything I asked quickly, efficiently and with good humour. Flawless work that extended to two revisions. The real clincher is that Louise is also very IT literate. I couldn't be more pleased and Louise is definitely my go to Graphic Designer. VERY happy to recommend." — Charles W