Where Tech Meets Design: Case Study.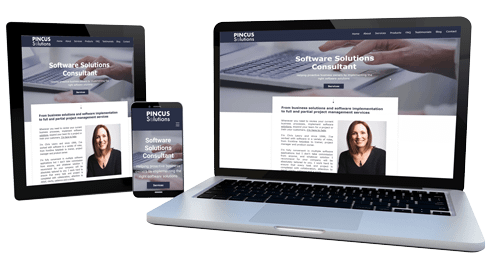 Pincus Solutions was in need of a website redesign and Louise could help…
THE BACKGROUND:
Chris Lewry set up Pincus Solutions in 2014. She has been "translating geek since 1996", as a Software Solutions Consultant. She offers 3 main services: Business Solutions, Project Management and Software Training. During her time in the self-employed world she has had some successful engagements with global companies like; Amadeus, American Express Global Business Travel, Flight Centre (via Amadeus Project), and MOD via Capita IT Resources.
"I keep my focus on solution delivery and a smooth transition for end users and possess the unique ability to translate geek into human in an easy-to-understand, well-paced and fun way." — Chris Lewry, Pincus Solutions
Like most of us, when the pandemic hit, things changed and she very quickly realized that she was going to have to adapt her business to enable it to continue to thrive. Being the proactive, intelligent woman she is, she realised that her website needed to become more of a focus. Her website up until this point was mainly used as a point of reference for her extensive testimonials.
Pincus Solutions old website homepage:
While Chris was reviewing her website she realized that not only is it dated in its look and feel, it didn't showcase what she does anymore. Her business has changed and developed, like all of our businesses, especially over the last year. She wanted her website to really reflect what she does, and wanted to be able to use it as a tool to promote her services. Chris was happy to continue to use the Wix platform, and decided it was also time to refresh her logo, which she decided to do herself.
THE PROBLEM:
Chris spent a bit of time working out how she was going to redesign her website. She'd created her logo, which she is really happy with, but she couldn't quite get stuck into the website design bit. This is when she realized that she '…has the tech skills to build the site and get it working – but is clueless on design!!'. Chris then decided to outsource her web design to me.
MY SOLUTION:
I take my clients through a 4 stage process which I find helps clients to understand the thought process and what goes into making their website.
Chris and I had completed the Prepare & Research stage, so we got to the Wireframe stage fairly quickly.

I then went on to design the wireframe, which Chris approved. The wireframe is the basic structure of the website, and is not based around the look and feel of the website. It enables my clients to understand the user journey, as it maps out the pages in an easy-to-understand layout.
Chris needed the copy on her website to be updated and changed. She likes her copy to reflect who she is and 'sound' like her – as if you were chatting to her as you read it. However, Chris is the first to admit that grammar and spelling is not her strength (having mild dyslexia) so she hired an editor (who knows her well as she is an old school friend) to proofread and edit her website copy.
One of the things Chris told me about her and her business was that: People choose to work with her because of her. There are lots of people that do what she does, but they don't do it her way. And that's what people buy when they use her services.
This is where Chris and I wanted to make sure that she was a main focus of the website, as well as showcasing her business services. Having the copy, images and the wireframe to refer to, I then moved into the Design & Build stage and worked closely with Chris to get the look and feel of the website right. 
As Wix was the platform Chris wanted to use, I looked through the existing templates as a starting point for her new website design. I designed each page and had regular catch up points with Chris to go through my progress. As Chris is very competent at using the Wix platform, she was able to jump in and assist in the design of the website easily. For example, she was able to replace any images that she wasn't sure about. I was then able to take these, export them correctly for website use, and put them back in the place she wanted them to be. The whole process worked smoothly. We got to a stage where Chris was happy to move on to the final stage…it was time to Go Live!
I arranged a Zoom call with Chris to complete the Go Live! stage together. I find that working with my clients in this way is an efficient way to get their websites live. Very often there are a few things that need to be processed, like domain name redirects, and it helps to have myself available to assist with any technical issues that might arise. Being the tech person that Chris is, making the website live was a straightforward process. I was able to do a quality control check and make sure everything was working as expected, for example, the online forms were going to the correct location.
THE OUTCOME:
I created a fully responsive website (meaning the website now resizes automatically to fit on mobile and desktop devices).

The website has clear landing pages about each of Chris's services and products that she offers.

The testimonial page is covered in wonderful statements from people who have worked with her (she promises me they are all true!).

The website has a clear call-to-action at multiple points throughout each page.

Anchor links are used which enhances how google's powerful search engine will understand her pages, as well as internal and external linking.

Plus, there's lots more that has gone into the making of the website – lots of it is behind the scenes. These are things like 301 redirects, inputting metadata, connecting social accounts, contact form submission settings, and SEO (Search Engine Optimization) considerations to name a few.